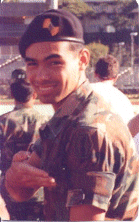 Power of the patch!.
What is Ranger Challenge
Ranger Challenge is the varsity sport of Army ROTC. Ranger Challenge is designed to develop esprit-de-corps, technical and tactical compitence, physical fitness, and leadership abilities of its participants. After the greuling 72 hour competition, everyone feels like a winner.

The 72 hour competition test cadets in weapons handling and assembly, marksmanship, one-rope bridge assembly, orienteering, hand grenade assault course, physical fitness, combat patrolling and a 10K combat load roadmarch.



UH Army ROTC
Military Science
Administration
1311 Lower Campus Road
Honolulu, HI 96822
Tel: (808) 956-7744
Fax: (808) 946-2840
E-mail: armyrotc@hawaii.edu
Faculty
R. K. Takao
D. K. Jackson
S. P. March
K. P. Schlimm
J. L. Hutto
T. D. Minicozzi
M. Sepkowski
General Information
The Army Reserve Officers Training Corps (ROTC) program provides college-trained officers with commissions as lieutenants in the U.S. Army, Hawaii Army National Guard, and the U.S. Army Reserve. Officers may be commissioned on active duty, in a reserve component while pursuing a civilian career, or receive an educational delay and earn a graduate or professional degree. Four-year, three-year, and two-year programs are available.